The Opening was last night for the Breast Defense show in Las Vegas.
Keep A Breast and the Burlesque Hall of Fame presented the exhibition of "Glamour Girls" breast casts, painted by today's best artists.
This show was great to work on because these women are amazing examples of beauty in all shapes, sizes and ages. The Burlesque community is a very tight knit group of people that KAB is proud to be a part of. Thanks to the Fallout gallery, all the performers, and artists for making this exhibition so special.
The casts will be on view at the Fallout gallery for the month, The exhibition will grow a little is size over the next year, the show will travel to a few more cities, to finally land in Los Angeles next spring!
here are a few pics...check the myspace album for more..
Dixie Evans with her cast painted by David LaChapelle
Amanda Nixon with her cast painted by Mike Giant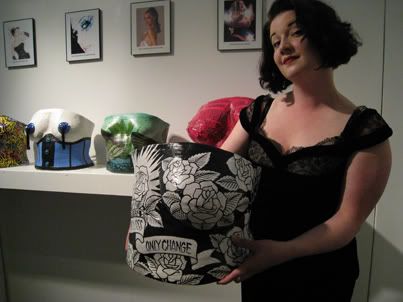 Joe Boobs with her cast painted by Elizabeth McGrath & Morgan Slade
Candy Baby Caramelo with her cast painted by Casey Weldon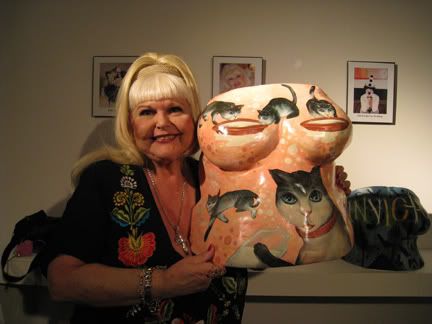 Clams Casino with her cast painted by Chase
Tigger! with his cast painted by Kim Gordon
Little Brooklyn and artist Tim Biskup holding her Breasts that he painted.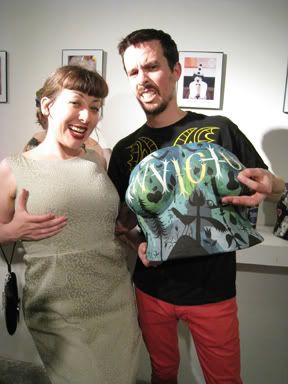 check these sites for more info
http://burlesquehall.com/
http://myspace.com/breastdefense
http://www.keep-a-breast.org/
thanks so much!!
xoxo-Shaney jo
The Keep A Breast Foundation
art. education. awareness. action.
"prevention is the cure"
oh yeah.. and here is a pic of me and ELVEZ!!!!!
http://www.elvez.net/
*my purse is by
Psychotic Reaction.
and you can get one at
Selvage Boutique
in Oceanside. Ca.
http://www.myspace.com/psychoticreactionshop
http://www.myspace.com/selvageboutique