WARPED TOUR POMONA FIRST DAY!
-Shaney jo
Today was the first day of the warped tour.
KAB has been on the warped tour for 8 years. I came up to Pamona to help out for the day. This is Erica's third year on the tour.
ERICA AND ME!!
I have to say... I'm so glad that I was there today. These days I'm normally working in the KAB office, I don't get a chance to be on the road as much as I used to. I miss a lot of the direct contact to the teenagers that KAB is reaching out to. Lately I've been dealing with a lot of "haters". People hating on me for the work I'm doing, other organizations and businesses stealing KAB's ideas and concepts. I've been yelled at a lot lately, I've been called a "kab-a-holic", I've been told "Your fighting a battle you can't win!" I've been feeling pretty down, without much support, like I'm doing this all alone.
Today reminded me that all of the shit talk is really just that! A big pile of shit. Today reminded me of why I do this work everyday. Today I met a young guy, who visited KAB on warped tour last year with his girlfriend, She could not come this year because she stayed home with her mom who has breast cancer. He came by the booth to buy them both tee shirts and just to talk, just to tell me what's going on and what they are going through and to thank me for everything I do, before he left he grabbed me and gave me the biggest hug. I met another teenage girl who came by the booth just get information for her friends. She told me that her mom died of breast cancer when she was only ten years old and that she was going to tell all her friends about KAB and teach them about breast cancer prevention. I also met a mom who brought by her 16 year old daughter just to talk and learn about what they both can do together to stay healthy and prevent breast cancer. Throughout the day these stories keep coming and go on and on, bands coming by telling us why they support KAB, person after person coming by just to show support! I'm grateful and blessed everyday to do this work, Thank you all or all the support!!!! as Erica says... "I'm a hugger not a hater"
The Warped Tour is the amazing place. It's a beautiful sanctuary of freedom and expression, the tour itself operates like one huge family and the energy extends out to all who attend.
Special thank to Kevin Lyman, the tour founder, who supports KAB on tour every year!
OUR NEW I LOVE BOOBIES! bracelets provided by Spencer's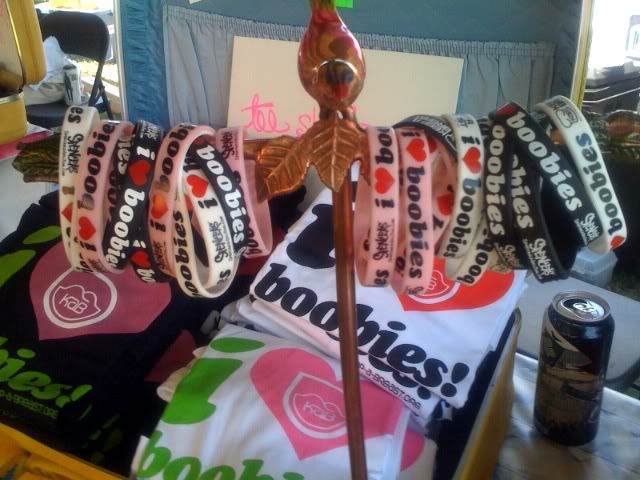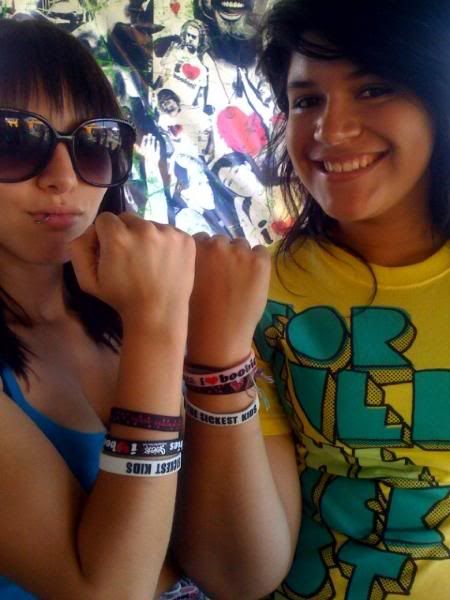 NEW TEE PURCHASE! in honor of her mom.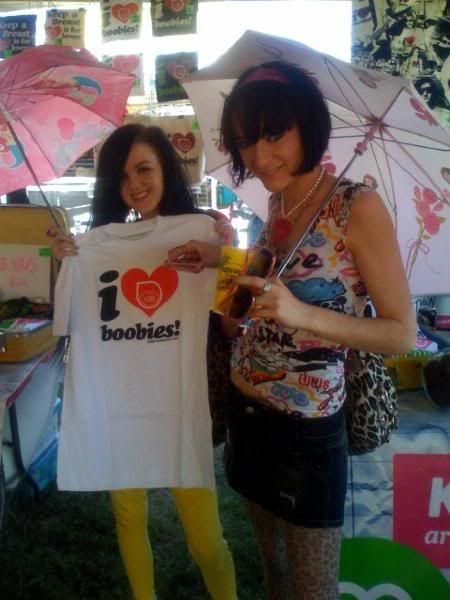 Lauren and Mike from Emergen-C came out to volunteer for KAB for the day.
"It was great for us to come and connect with the KAB fans, see the kind of hard work Shaney jo and Erica put in, and hear some of their stories that make the whole fight against breast cancer so important. Any help we can provide to keep one kid from losing their mom/grandmother/aunt is worth it. Did I mention we had fun despite the 106 degree weather? "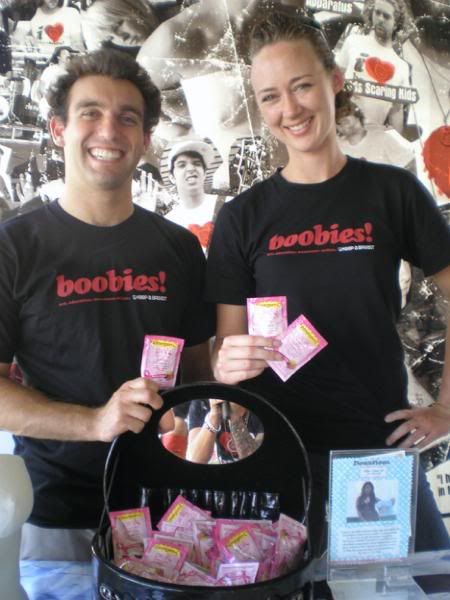 Keep checking back for Erica's updates from the road, She will be bringing you lots of great stuff this year. Interviews and "healthy tips of the week" featuring your fav bands. There is an awsome KAB after party for the Denver show, and make sure if you are at warped tour.. go to the Girlz Garage... and help KAB stop breast cancer!!
xoxoxo,
Shaney jo
Keep A Breast
Art. Education. Awarness. Action.