July 22nd, Boston, MA
The past two days have been great. We have had the two days off to relax and recoup. Yesterday we relaxed in the hotel room, went to a mall that was very unexciting, however Katie and I were able to find some great buys! I think Katie spent all the money she had on eight dresses…or something close to that. In the early evening we took a train into the city, went out for sushi then went to bed. We woke up fairly early today and Erin Caruso came to pick us up and take us to one of her favorite places to go out for brunch. We had the most lovely day, eating, shopping and checking out what Boston has to offer. We met up with some friends in Say Anything and Against Me later that evening and had the best time relaxing and yapping about all that we are up to on this crazy tour. It was a great night and a good break between two long stretches of the tour.
July 25th Camden, NJ (Philidelphia)
The entire tour gets fairly excited about the Philadelphia date (Camden, NJ)…just a quick ferry ride across the river to get into the city. We were excited for several reasons today! We got the pleasure of having all of the Spencer's people out to see what we do on the Warped Tour. They have been very supportive of Keep A Breast and the I heart Boobies wristbands are a tour favorite! Everyone LOVES them!!! The show was crazy busy with heaps of people visiting our tent. We were placed in front of the main stages so it was super loud all day long and a bit more difficult to talk to all of the visitors to the tent.
We also had the pleasure of having our good friend, Brendan Ekstrom from Circa Survive, come out and visit us for the day. It was so wonderful to have him out. Later after the show, I gave our friend Max Bemis a haircut then Brendan surprised me and took me to see She & Him! Such a great band and I was thrilled to see them play. I was missing the annual cornhole (bean bag) tournament that Oliver Peck puts on. I got back in time for the very end….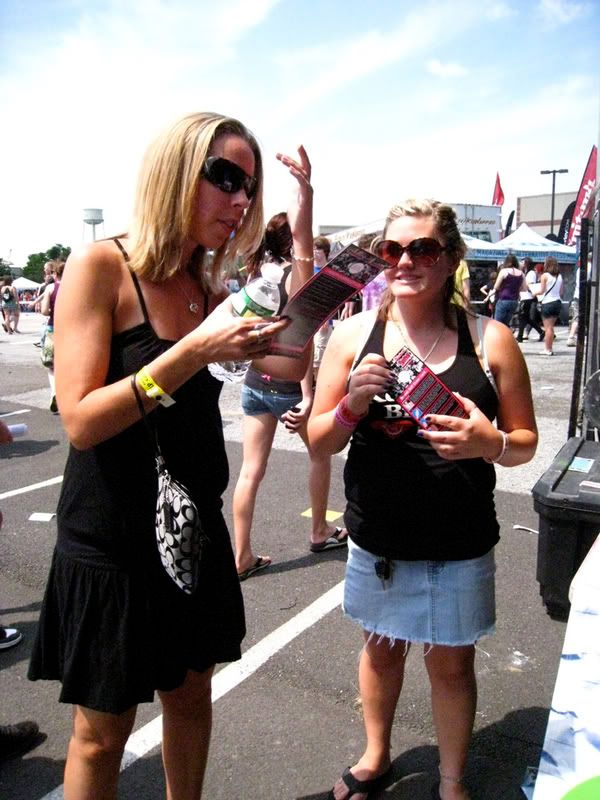 view of Phily from the ferry ride from the venue