July 20th Montreal, QC
Today was beautiful! I was scared a bit at first because this venue is usually very dusty and dirty…and this makes it very hard to breathe because of all of the yucky stuff in the air. However, it had been raining in Montreal days prior so all of the dirt was hardened and made the day quite pleasurable. It was very loud though, we had several stages surrounding us making it just sound like a bunch of crazy loud noise. This venue has an absolutely breath taking view of the city of Montreal from across the river. Its amazing…one of my favorites. We had visitors all day today as well….Lisa from Label Networks whom is a frequent visitor of the Girlz Garage popped by again as well as our dear friend Mike who tour manages Protest The Hero. We had several wonderful locals visit and want to lend a helping hand with Keep A Breast. This is wear our new Music For Awareness campaign begins to play a roll. We have been promoting the new MFA campaign all summer and everyone seems to be very interested in it. We love our volunteers and are excited when new people want to help out.
Overall the day was wonderful. We were attempting going into the city to check it out, however we just ended up hanging with the rest of the tour at the BBQ after the show. We got to hang with our good friends in Say Anything and Reel Big Fish…such wonderful people.
Bouncing Souls performing an acoustic set in the Skull Candy Mix Tent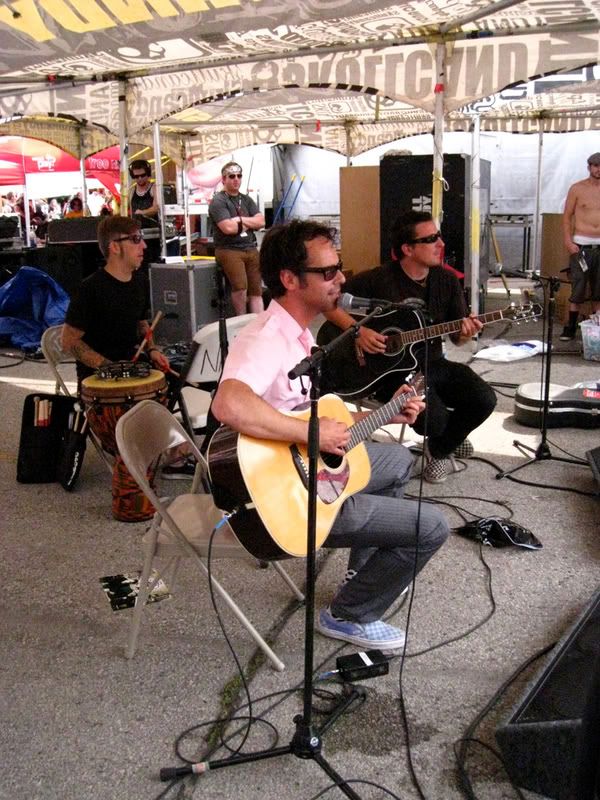 My morning always begin with these lovely people! Michael who tour manages Protest the Hero, the one and only Katie Lockley, Erin Caruso and Dylan!!